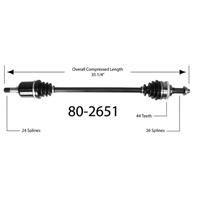 mouse over to enlarge
This is a brand New CV DRIVE SHAFT , AXLE THAT FITS , FORD & MERCURY
PASSENGERS SIDE
1991 1992 1993 1994 1995 1996 Escort 1.9L engine ONLY, EXP & Tracer , automatic or manual , with or without abs brakes ,
1997 1998 1999 2000 2001 2002 Escort ,EXP all with Automatic transmission ONLY , with or without abs brakes will not fit ZX2
This axle comes with the abs trigger wheel and will fits cars with or without abs brakes
PART # 1 / 80-2651
TORQUE SPEC. refer to oem for ft lbs
All of our CV shafts come brand new, this means there is no core charge to deal with. Also a LIFE TIME WARRANTY, this is an amazing deal.