Details



This is a brand New CV DRIVE SHAFT , AXLE THAT FITS DODGE CHYSLER PLYMOUTH
Caravan , Grand Caravan , Voyager , Grand Voyager , Town & Country
FITS:
1987,1988,1989,1990 Regular & Turbo Engine, with Automatic & Manual Transmission D/S
1991,1992,1993,1994,1995 , All Engines, All Transmissions D/S
INCLUDES
1x PART # DC4075A , Drivers Side Axle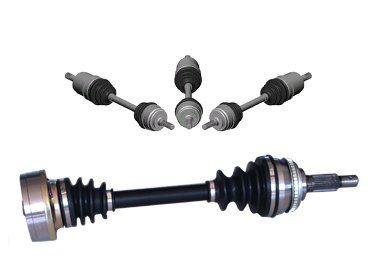 Professionally Engineered
Every axle is engineered and designed to meet or exceed OEM specifications. All original materials are laboratory analyzed for their exact constitution and reproduced in the same fashion. Components are then forged and machined to their exact specifications. When appropriate, components will also undergo an induction heat treatment process or have a phosphate coating applied. The entire process is managed under great scrutiny in order to ensure that every axle manufactured meet or exceed OEM specifications.
Why Select the Brand New CV Axle
High Quality.

All of brand new Axles are backup up by

QS9000/ISO9002

certified procedure and exceeding O.E. Standard.
No Hassle for Core Exchange

. We offer brand new CV Axle help you eliminate the cost for core collection, stock, exchange and shipment.
Durability

. All the components of brand new CV Axle are original equipment parts (not rebuilt).
Lifetime Warranty

. We offer limited Lifetime Warranty on our brand new CV Axle.
Our NEW CV Axles are manufactured by GSP Group, the largest CV Axles manufacturer in China.
Our NEW CV Axles are built to meet or exceed original equipment performance
GSP is QS9000/ISO9002 certified

. This insures that every axle will have the quality and performance you expect...not once...but every time
All of the added engineering and quality control we put into our products allow us to offer a limited lifetime warranty on all our CV Axles.

HIGH SPEED BALANCED
Fitment Details
| Year | Make | Model | Trim | Engine | Notes |
| --- | --- | --- | --- | --- | --- |
| 1987 | Dodge | Caravan | | | 1987,1988,1989,1990 Regular & Turbo Engine, with Automatic & Manual Transmission D/S |
| 1988 | Dodge | Caravan | | | 1987,1988,1989,1990 Regular & Turbo Engine, with Automatic & Manual Transmission D/S |
| 1989 | Dodge | Caravan | | | 1987,1988,1989,1990 Regular & Turbo Engine, with Automatic & Manual Transmission D/S |
| 1990 | Dodge | Caravan | | | 1987,1988,1989,1990 Regular & Turbo Engine, with Automatic & Manual Transmission D/S |
| 1991 | Dodge | Caravan | | | 1991,1992,1993,1994,1995 , All Engines, All Transmissions D/S |
| 1992 | Dodge | Caravan | | | 1991,1992,1993,1994,1995 , All Engines, All Transmissions D/S |
| 1993 | Dodge | Caravan | | | 1991,1992,1993,1994,1995 , All Engines, All Transmissions D/S |
| 1994 | Dodge | Caravan | | | 1991,1992,1993,1994,1995 , All Engines, All Transmissions D/S |
| 1995 | Dodge | Caravan | | | 1991,1992,1993,1994,1995 , All Engines, All Transmissions D/S |