Details
You are looking at a BRAND NEW OEM style replacment set of 2 Rear rotors & MONROE DYNAMIC Brake Pads , for a BMW
FITS ,
1995-2001 740i & 740il , all
INCLUDES:
2x Part # 34179 Rear Rotors
1x Part # DX683 Dynamic low resin pads , 4 pads for L & R
Monroe® Dynamics Premium Brake Pads Help With The Following:
Monroe Dynamics brake pads feature Positive Molding Technology, the same process used by leading OE Manufacturers.
OE Constant Pressure Molding
For enhanced bonding of the pad and backing plate.
50% Less Resin
Results in more active ingredient in the friction material, better stopping performance, increased pad life.
Denser Friction Material
Produces less noise, less dust and helps ensure superior stopping performance.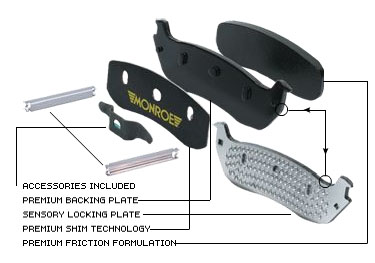 Fitment Details
| Year | Make | Model | Trim | Engine | Notes |
| --- | --- | --- | --- | --- | --- |
| 1995 | BMW | 740i | | | |
| 1997 | BMW | 740i | | | |
| 1998 | BMW | 740i | | | |
| 1999 | BMW | 740i | | | |
| 2000 | BMW | 740i | | | |
| 2001 | BMW | 740i | | | |
| 1995 | BMW | 740iL | | | |
| 1996 | BMW | 740iL | | | |
| 1997 | BMW | 740iL | | | |
| 1998 | BMW | 740iL | | | |
| 1999 | BMW | 740iL | | | |
| 2000 | BMW | 740iL | | | |
| 2001 | BMW | 740iL | | | |