Details
This item is a brand new Walker Cat Back OE style Replacement Dual Exhaust System that will fit PONTIAC
1996 1997 1998 Grand Am GT with 2.4L or 3.1L
Converter Back System Includes
1x Part# 56098-1 1st section extension pipe
1x Part# 56098-2 2nd section extension pipe
1x Part# 53423 Axle connector pipe
1x Part# 21429 Passenger side Quiet Flow Muffler , with tips
1x Part# 21430 Drivers Side Quiet Flow Muffler , with tips
1x Part# 31369 Gasket
1x Part# 31310 Gasket
1x Part# 35003 P/S muffler bracket
1x Part# 36153 D/S muffler bracket
1x Part# Mc134hd clamps
1x Part# Mc200hd clamps
1x Part# 55260 connector
Walker fits like OE because we also manufacture the OE product.
Walker History
Walker has been a driving force of innovation over the past century. The brand's history of innovative engineering includes such "firsts" as the louvered-tube muffler, stainless steel muffler, aluminized exhaust products, and chambered-tube mufflers.
These advantages continue today in virtually every premium Walker exhaust and emission control component. For Walker, innovation drives performance and satisfied customers.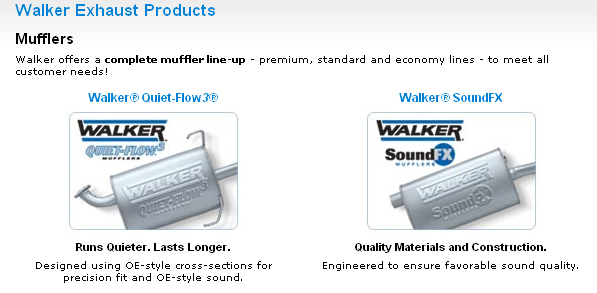 Fitment Details
| Year | Make | Model | Trim | Engine | Notes |
| --- | --- | --- | --- | --- | --- |
| 1996 | Pontiac | Grand Am | GT Sedan 4-Door | 3.1L 189Cu. In. V6 GAS OHV Naturally Aspirated | With Dual Exhaust |
| 1996 | Pontiac | Grand Am | GT Coupe 2-Door | 3.1L 189Cu. In. V6 GAS OHV Naturally Aspirated | With Dual Exhaust |
| 1997 | Pontiac | Grand Am | GT Coupe 2-Door | 3.1L 189Cu. In. V6 GAS OHV Naturally Aspirated | With Dual Exhaust |
| 1997 | Pontiac | Grand Am | GT Sedan 4-Door | 3.1L 189Cu. In. V6 GAS OHV Naturally Aspirated | With Dual Exhaust |
| 1998 | Pontiac | Grand Am | GT Sedan 4-Door | 3.1L 189Cu. In. V6 GAS OHV Naturally Aspirated | With Dual Exhaust |
| 1998 | Pontiac | Grand Am | GT Coupe 2-Door | 3.1L 189Cu. In. V6 GAS OHV Naturally Aspirated | With Dual Exhaust |