Details
ITEM DESCRIPTION:


This is a brand New CV DRIVE SHAFT , AXLE THAT FITS , DODGE CHRYSLER PLYMOUTH
PASSENGERS SIDE
ITEM DESCRIPTION:


This is a brand New CV DRIVE SHAFT , AXLE THAT FITS DODGE CHYSLER PLYMOUTH
Caravan , Grand Caravan , Voyager , Grand Voyager , Town & Country
Front axle
1990-1995 , With & Without abs , with intermediate shaft , this means that your driver and passenger side shaft are the same part number , and are also equal in length part # NCV12507 will fit the driver or passenger side
1987-1995 , With & Without abs , without intermediate shaft , this means that your driver and passenger side shaft are not equal in length , part # NCV12507 will fit the drivers side only !!
1987 1988 1989 1990 1991 1992 1993 1994 1994 1994 , Caravan , Grand Caravan , Voyager Grand Voyager , Town & Country , all models Drivers side , with all engines With or Without ABS Brakes
PART # NCV12507
TORQUE SPEC. 180 ft lbs
All of our CV shafts come with abs trigger wheel and will fit vans with or without abs brakes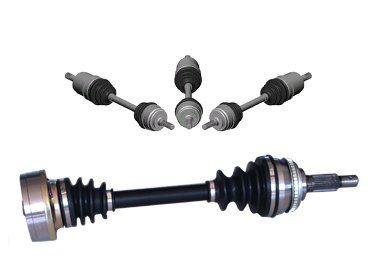 Professionally Engineered
Every axle is engineered and designed to meet or exceed OEM specifications. All original materials are laboratory analyzed for their exact constitution and reproduced in the same fashion. Components are then forged and machined to their exact specifications. When appropriate, components will also undergo an induction heat treatment process or have a phosphate coating applied. The entire process is managed under great scrutiny in order to ensure that every axle manufactured meet or exceed OEM specifications.
PART # 1 / NCV12507
All of our CV shafts come brand new, this means there is no core charge to deal with. Also a LIFE TIME WARRANTY, this is an amazing deal.

Why Select the GSP Brand New CV Axle
High Quality.

All of brand new Axles are backup up by

QS9000/ISO9002

certified procedure and exceeding O.E. Standard.
No Hassle for Core Exchange

. We offer brand new CV Axle help you eliminate the cost for core collection, stock, exchange and shipment.
Durability

. All the components of brand new CV Axle are original equipment parts (not rebuilt).
Lifetime Warranty

. We offer limited Lifetime Warranty on our brand new CV Axle.
Our NEW CV Axles are manufactured by GSP Group, the largest CV Axles manufacturer in China.
Our NEW CV Axles are built to meet or exceed original equipment performance
GSP is QS9000/ISO9002 certified

. This insures that every axle will have the quality and performance you expect...not once...but every time
All of the added engineering and quality control we put into our products allow us to offer a limited lifetime warranty on all our CV Axles.

HIGH SPEED BALANCED

Fitment Details
| Year | Make | Model | Trim | Engine | Notes |
| --- | --- | --- | --- | --- | --- |
| 1987 | Chrysler | Town & Country | Base Wagon 4-Door | 2.5L 2507CC 153Cu. In. l4 GAS SOHC Naturally Aspirated | |
| 1987 | Chrysler | Town & Country | Base Wagon 4-Door | 2.2L 135Cu. In. l4 GAS SOHC Turbocharged | |
| 1988 | Chrysler | Town & Country | Base Wagon 4-Door | 2.5L 2507CC 153Cu. In. l4 GAS SOHC Naturally Aspirated | |
| 1988 | Chrysler | Town & Country | Base Wagon 4-Door | 2.2L 135Cu. In. l4 GAS SOHC Turbocharged | |
| 1990 | Chrysler | Town & Country | Base Mini Passenger Van 3-Door | 3.3L 3301CC 201Cu. In. V6 GAS OHV Naturally Aspirated | |
| 1991 | Chrysler | Town & Country | Base Mini Passenger Van 3-Door | 3.3L 3301CC 201Cu. In. V6 GAS OHV Naturally Aspirated | |
| 1992 | Chrysler | Town & Country | Base Mini Passenger Van 3-Door | 3.3L 3301CC 201Cu. In. V6 GAS OHV Naturally Aspirated | |
| 1993 | Chrysler | Town & Country | Base Mini Passenger Van 3-Door | 3.3L 3301CC 201Cu. In. V6 GAS OHV Naturally Aspirated | |
| 1994 | Chrysler | Town & Country | Base Mini Passenger Van 3-Door | 3.8L 3778CC 231Cu. In. V6 GAS OHV Naturally Aspirated | |
| 1995 | Chrysler | Town & Country | Base Mini Passenger Van 3-Door | 3.8L 3778CC 231Cu. In. V6 GAS OHV Naturally Aspirated | |
| 1995 | Chrysler | Town & Country | Base Mini Passenger Van 4-Door | 3.8L 3778CC 231Cu. In. V6 GAS OHV Naturally Aspirated | |
| 1987 | Dodge | Caravan | LE Mini Passenger Van 3-Door | 2.2L 135Cu. In. l4 GAS SOHC Naturally Aspirated | |
| 1987 | Dodge | Caravan | LE Mini Passenger Van 3-Door | 2.6L 2555CC 156Cu. In. l4 GAS SOHC Naturally Aspirated | |
| 1987 | Dodge | Caravan | Base Mini Passenger Van 3-Door | 2.2L 135Cu. In. l4 GAS SOHC Naturally Aspirated | |
| 1987 | Dodge | Caravan | SE Mini Passenger Van 3-Door | 2.2L 135Cu. In. l4 GAS SOHC Naturally Aspirated | |
| 1987 | Dodge | Caravan | Base Mini Passenger Van 3-Door | 2.6L 2555CC 156Cu. In. l4 GAS SOHC Naturally Aspirated | |
| 1987 | Dodge | Caravan | LE Mini Passenger Van 3-Door | 3.0L 2972CC 181Cu. In. V6 GAS SOHC Naturally Aspirated | |
| 1987 | Dodge | Caravan | SE Mini Passenger Van 3-Door | 3.0L 2972CC 181Cu. In. V6 GAS SOHC Naturally Aspirated | |
| 1987 | Dodge | Caravan | SE Mini Passenger Van 3-Door | 2.6L 2555CC 156Cu. In. l4 GAS SOHC Naturally Aspirated | |
| 1988 | Dodge | Caravan | SE Mini Passenger Van 3-Door | 2.5L 2507CC 153Cu. In. l4 GAS SOHC Naturally Aspirated | |
| 1988 | Dodge | Caravan | LE Mini Passenger Van 3-Door | 2.5L 2507CC 153Cu. In. l4 GAS SOHC Naturally Aspirated | |
| 1988 | Dodge | Caravan | Base Mini Passenger Van 3-Door | 2.5L 2507CC 153Cu. In. l4 GAS SOHC Naturally Aspirated | |
| 1988 | Dodge | Caravan | LE Mini Passenger Van 3-Door | 3.0L 2972CC 181Cu. In. V6 GAS SOHC Naturally Aspirated | |
| 1988 | Dodge | Caravan | SE Mini Passenger Van 3-Door | 3.0L 2972CC 181Cu. In. V6 GAS SOHC Naturally Aspirated | |
| 1989 | Dodge | Caravan | LE Mini Passenger Van 3-Door | 2.5L 2507CC 153Cu. In. l4 GAS SOHC Turbocharged | |
| 1989 | Dodge | Caravan | SE Mini Passenger Van 3-Door | 2.5L 2507CC 153Cu. In. l4 GAS SOHC Turbocharged | |
| 1989 | Dodge | Caravan | Base Mini Passenger Van 3-Door | 2.5L 2507CC 153Cu. In. l4 GAS SOHC Turbocharged | |
| 1989 | Dodge | Caravan | C/V Mini Cargo Van 3-Door | 2.5L 2507CC 153Cu. In. l4 GAS SOHC Naturally Aspirated | |
| 1989 | Dodge | Caravan | C/V Mini Cargo Van 3-Door | 3.0L 2972CC 181Cu. In. V6 GAS SOHC Naturally Aspirated | |
| 1989 | Dodge | Caravan | SE Mini Passenger Van 3-Door | 2.5L 2507CC 153Cu. In. l4 GAS SOHC Naturally Aspirated | |
| 1989 | Dodge | Caravan | LE Mini Passenger Van 3-Door | 2.5L 2507CC 153Cu. In. l4 GAS SOHC Naturally Aspirated | |
| 1989 | Dodge | Caravan | LE Mini Passenger Van 3-Door | 3.0L 2972CC 181Cu. In. V6 GAS SOHC Naturally Aspirated | |
| 1989 | Dodge | Caravan | Base Mini Passenger Van 3-Door | 2.5L 2507CC 153Cu. In. l4 GAS SOHC Naturally Aspirated | |
| 1989 | Dodge | Caravan | SE Mini Passenger Van 3-Door | 3.0L 2972CC 181Cu. In. V6 GAS SOHC Naturally Aspirated | |
| 1989 | Dodge | Caravan | C/V Mini Cargo Van 3-Door | 2.5L 2507CC 153Cu. In. l4 GAS SOHC Turbocharged | |
| 1990 | Dodge | Caravan | SE Mini Passenger Van 3-Door | 3.0L 2972CC 181Cu. In. V6 GAS SOHC Naturally Aspirated | |
| 1990 | Dodge | Caravan | Base Mini Passenger Van 3-Door | 3.0L 2972CC 181Cu. In. V6 GAS SOHC Naturally Aspirated | |
| 1990 | Dodge | Caravan | C/V Mini Cargo Van 3-Door | 2.5L 2507CC 153Cu. In. l4 GAS SOHC Naturally Aspirated | |
| 1990 | Dodge | Caravan | Base Mini Passenger Van 3-Door | 2.5L 2507CC 153Cu. In. l4 GAS SOHC Turbocharged | |
| 1990 | Dodge | Caravan | SE Mini Passenger Van 3-Door | 2.5L 2507CC 153Cu. In. l4 GAS SOHC Naturally Aspirated | |
| 1990 | Dodge | Caravan | LE Mini Passenger Van 3-Door | 3.0L 2972CC 181Cu. In. V6 GAS SOHC Naturally Aspirated | |
| 1990 | Dodge | Caravan | Base Mini Passenger Van 3-Door | 2.5L 2507CC 153Cu. In. l4 GAS SOHC Naturally Aspirated | |
| 1990 | Dodge | Caravan | LE Mini Passenger Van 3-Door | 2.5L 2507CC 153Cu. In. l4 GAS SOHC Turbocharged | |
| 1990 | Dodge | Caravan | C/V Mini Cargo Van 3-Door | 3.0L 2972CC 181Cu. In. V6 GAS SOHC Naturally Aspirated | |
| 1990 | Dodge | Caravan | ES Mini Passenger Van 3-Door | 2.5L 2507CC 153Cu. In. l4 GAS SOHC Turbocharged | |
| 1990 | Dodge | Caravan | C/V Mini Cargo Van 3-Door | 2.5L 2507CC 153Cu. In. l4 GAS SOHC Turbocharged | |
| 1990 | Dodge | Caravan | SE Mini Passenger Van 3-Door | 2.5L 2507CC 153Cu. In. l4 GAS SOHC Turbocharged | |
| 1990 | Dodge | Caravan | LE Mini Passenger Van 3-Door | 2.5L 2507CC 153Cu. In. l4 GAS SOHC Naturally Aspirated | |
| 1990 | Dodge | Caravan | ES Mini Passenger Van 3-Door | 3.0L 2972CC 181Cu. In. V6 GAS SOHC Naturally Aspirated | |
| 1990 | Dodge | Caravan | ES Mini Passenger Van 3-Door | 2.5L 2507CC 153Cu. In. l4 GAS SOHC Naturally Aspirated | |
| 1990 | Dodge | Caravan | Base Mini Passenger Van 3-Door | 3.3L 3301CC 201Cu. In. V6 GAS OHV Naturally Aspirated | |
| 1991 | Dodge | Caravan | SE Mini Passenger Van 3-Door | 2.5L 2507CC 153Cu. In. l4 GAS SOHC Naturally Aspirated | |
| 1991 | Dodge | Caravan | ES Mini Passenger Van 3-Door | 3.3L 3301CC 201Cu. In. V6 GAS OHV Naturally Aspirated | |
| 1991 | Dodge | Caravan | SE Mini Passenger Van 3-Door | 3.3L 3301CC 201Cu. In. V6 GAS OHV Naturally Aspirated | |
| 1991 | Dodge | Caravan | C/V Mini Cargo Van 3-Door | 3.3L 3301CC 201Cu. In. V6 GAS OHV Naturally Aspirated | |
| 1991 | Dodge | Caravan | LE Mini Passenger Van 3-Door | 2.5L 2507CC 153Cu. In. l4 GAS SOHC Naturally Aspirated | |
| 1991 | Dodge | Caravan | C/V Mini Cargo Van 3-Door | 3.0L 2972CC 181Cu. In. V6 GAS SOHC Naturally Aspirated | |
| 1991 | Dodge | Caravan | Base Mini Passenger Van 3-Door | 3.3L 3301CC 201Cu. In. V6 GAS OHV Naturally Aspirated | |
| 1991 | Dodge | Caravan | ES Mini Passenger Van 3-Door | 2.5L 2507CC 153Cu. In. l4 GAS SOHC Naturally Aspirated | |
| 1991 | Dodge | Caravan | ES Mini Passenger Van 3-Door | 3.0L 2972CC 181Cu. In. V6 GAS SOHC Naturally Aspirated | |
| 1991 | Dodge | Caravan | SE Mini Passenger Van 3-Door | 3.0L 2972CC 181Cu. In. V6 GAS SOHC Naturally Aspirated | |
| 1991 | Dodge | Caravan | LE Mini Passenger Van 3-Door | 3.0L 2972CC 181Cu. In. V6 GAS SOHC Naturally Aspirated | |
| 1991 | Dodge | Caravan | C/V Mini Cargo Van 3-Door | 2.5L 2507CC 153Cu. In. l4 GAS SOHC Naturally Aspirated | |
| 1991 | Dodge | Caravan | LE Mini Passenger Van 3-Door | 3.3L 3301CC 201Cu. In. V6 GAS OHV Naturally Aspirated | |
| 1991 | Dodge | Caravan | Base Mini Passenger Van 3-Door | 2.5L 2507CC 153Cu. In. l4 GAS SOHC Naturally Aspirated | |
| 1992 | Dodge | Caravan | SE Mini Passenger Van 3-Door | 2.5L 2507CC 153Cu. In. l4 GAS SOHC Naturally Aspirated | |
| 1992 | Dodge | Caravan | Base Mini Passenger Van 3-Door | 3.0L 2972CC 181Cu. In. V6 GAS SOHC Naturally Aspirated | |
| 1992 | Dodge | Caravan | LE Mini Passenger Van 3-Door | 3.3L 3301CC 201Cu. In. V6 GAS OHV Naturally Aspirated | |
| 1992 | Dodge | Caravan | ES Mini Passenger Van 3-Door | 3.3L 3301CC 201Cu. In. V6 GAS OHV Naturally Aspirated | |
| 1992 | Dodge | Caravan | ES Mini Passenger Van 3-Door | 2.5L 2507CC 153Cu. In. l4 GAS SOHC Naturally Aspirated | |
| 1992 | Dodge | Caravan | SE Mini Passenger Van 3-Door | 3.3L 3301CC 201Cu. In. V6 GAS OHV Naturally Aspirated | |
| 1992 | Dodge | Caravan | ES Mini Passenger Van 3-Door | 3.0L 2972CC 181Cu. In. V6 GAS SOHC Naturally Aspirated | |
| 1992 | Dodge | Caravan | LE Mini Passenger Van 3-Door | 3.0L 2972CC 181Cu. In. V6 GAS SOHC Naturally Aspirated | |
| 1992 | Dodge | Caravan | C/V Mini Cargo Van 3-Door | 3.0L 2972CC 181Cu. In. V6 GAS SOHC Naturally Aspirated | |
| 1992 | Dodge | Caravan | C/V Mini Cargo Van 3-Door | 2.5L 2507CC 153Cu. In. l4 GAS SOHC Naturally Aspirated | |
| 1992 | Dodge | Caravan | SE Mini Passenger Van 3-Door | 3.0L 2972CC 181Cu. In. V6 GAS SOHC Naturally Aspirated | |
| 1992 | Dodge | Caravan | C/V Mini Cargo Van 3-Door | 3.3L 3301CC 201Cu. In. V6 GAS OHV Naturally Aspirated | |
| 1992 | Dodge | Caravan | Base Mini Passenger Van 3-Door | 3.3L 3301CC 201Cu. In. V6 GAS OHV Naturally Aspirated | |
| 1992 | Dodge | Caravan | Base Mini Passenger Van 3-Door | 2.5L 2507CC 153Cu. In. l4 GAS SOHC Naturally Aspirated | |
| 1993 | Dodge | Caravan | C/V Mini Cargo Van 3-Door | 3.0L 2972CC 181Cu. In. V6 GAS SOHC Naturally Aspirated | |
| 1993 | Dodge | Caravan | Base Mini Passenger Van 3-Door | 3.3L 3301CC 201Cu. In. V6 GAS OHV Naturally Aspirated | |
| 1993 | Dodge | Caravan | SE Mini Passenger Van 3-Door | 2.5L 2507CC 153Cu. In. l4 GAS SOHC Naturally Aspirated | |
| 1993 | Dodge | Caravan | ES Mini Passenger Van 3-Door | 3.0L 2972CC 181Cu. In. V6 GAS SOHC Naturally Aspirated | |
| 1993 | Dodge | Caravan | ES Mini Passenger Van 3-Door | 3.3L 3301CC 201Cu. In. V6 GAS OHV Naturally Aspirated | |
| 1993 | Dodge | Caravan | Base Mini Passenger Van 3-Door | ELECTRIC | |
| 1993 | Dodge | Caravan | Base Mini Passenger Van 3-Door | 2.5L 2507CC 153Cu. In. l4 GAS SOHC Naturally Aspirated | |
| 1993 | Dodge | Caravan | LE Mini Passenger Van 3-Door | 3.3L 3301CC 201Cu. In. V6 GAS OHV Naturally Aspirated | |
| 1993 | Dodge | Caravan | C/V Mini Cargo Van 3-Door | 3.3L 3301CC 201Cu. In. V6 GAS OHV Naturally Aspirated | |
| 1993 | Dodge | Caravan | LE Mini Passenger Van 3-Door | 3.0L 2972CC 181Cu. In. V6 GAS SOHC Naturally Aspirated | |
| 1993 | Dodge | Caravan | Base Mini Passenger Van 3-Door | 3.0L 2972CC 181Cu. In. V6 GAS SOHC Naturally Aspirated | |
| 1993 | Dodge | Caravan | SE Mini Passenger Van 3-Door | 3.0L 2972CC 181Cu. In. V6 GAS SOHC Naturally Aspirated | |
| 1993 | Dodge | Caravan | SE Mini Passenger Van 3-Door | 3.3L 3301CC 201Cu. In. V6 GAS OHV Naturally Aspirated | |
| 1993 | Dodge | Caravan | C/V Mini Cargo Van 3-Door | 2.5L 2507CC 153Cu. In. l4 GAS SOHC Naturally Aspirated | |
| 1994 | Dodge | Caravan | C/V Mini Cargo Van 3-Door | 3.0L 2972CC 181Cu. In. V6 GAS SOHC Naturally Aspirated | |
| 1994 | Dodge | Caravan | SE Mini Passenger Van 3-Door | 3.3L 3301CC 201Cu. In. V6 CNG OHV Naturally Aspirated | |
| 1994 | Dodge | Caravan | LE Mini Passenger Van 3-Door | 3.3L 3301CC 201Cu. In. V6 GAS OHV Naturally Aspirated | |
| 1994 | Dodge | Caravan | SE Mini Passenger Van 3-Door | 3.3L 3301CC 201Cu. In. V6 GAS OHV Naturally Aspirated | |
| 1994 | Dodge | Caravan | LE Mini Passenger Van 3-Door | 3.0L 2972CC 181Cu. In. V6 GAS SOHC Naturally Aspirated | |
| 1994 | Dodge | Caravan | Base Mini Passenger Van 3-Door | 3.3L 3301CC 201Cu. In. V6 CNG OHV Naturally Aspirated | |
| 1994 | Dodge | Caravan | ES Mini Passenger Van 3-Door | 3.0L 2972CC 181Cu. In. V6 GAS SOHC Naturally Aspirated | |
| 1994 | Dodge | Caravan | C/V Mini Cargo Van 3-Door | 3.3L 3301CC 201Cu. In. V6 CNG OHV Naturally Aspirated | |
| 1994 | Dodge | Caravan | SE Mini Passenger Van 3-Door | 3.0L 2972CC 181Cu. In. V6 GAS SOHC Naturally Aspirated | |
| 1994 | Dodge | Caravan | C/V Mini Cargo Van 3-Door | 2.5L 2507CC 153Cu. In. l4 GAS SOHC Naturally Aspirated | |
| 1994 | Dodge | Caravan | ES Mini Passenger Van 3-Door | 3.3L 3301CC 201Cu. In. V6 GAS OHV Naturally Aspirated | |
| 1994 | Dodge | Caravan | Base Mini Passenger Van 3-Door | ELECTRIC | |
| 1994 | Dodge | Caravan | Base Mini Passenger Van 3-Door | 2.5L 2507CC 153Cu. In. l4 GAS SOHC Naturally Aspirated | |
| 1994 | Dodge | Caravan | Base Mini Passenger Van 3-Door | 3.0L 2972CC 181Cu. In. V6 GAS SOHC Naturally Aspirated | |
| 1994 | Dodge | Caravan | Base Mini Passenger Van 3-Door | 3.3L 3301CC 201Cu. In. V6 GAS OHV Naturally Aspirated | |
| 1995 | Dodge | Caravan | SE Mini Passenger Van 3-Door | 3.0L 2972CC 181Cu. In. V6 GAS SOHC Naturally Aspirated | |
| 1995 | Dodge | Caravan | C/V Mini Cargo Van 3-Door | 3.3L 3301CC 201Cu. In. V6 CNG OHV Naturally Aspirated | |
| 1995 | Dodge | Caravan | SE Mini Passenger Van 3-Door | 3.3L 3301CC 201Cu. In. V6 CNG OHV Naturally Aspirated | |
| 1995 | Dodge | Caravan | Base Mini Passenger Van 3-Door | 2.5L 2507CC 153Cu. In. l4 GAS SOHC Naturally Aspirated | |
| 1995 | Dodge | Caravan | LE Mini Passenger Van 3-Door | 3.3L 3301CC 201Cu. In. V6 GAS OHV Naturally Aspirated | |
| 1995 | Dodge | Caravan | ES Mini Passenger Van 3-Door | 3.3L 3301CC 201Cu. In. V6 GAS OHV Naturally Aspirated | |
| 1995 | Dodge | Caravan | SE Mini Passenger Van 3-Door | 3.3L 3301CC 201Cu. In. V6 GAS OHV Naturally Aspirated | |
| 1995 | Dodge | Caravan | ES Mini Passenger Van 3-Door | 3.0L 2972CC 181Cu. In. V6 GAS SOHC Naturally Aspirated | |
| 1995 | Dodge | Caravan | Base Mini Passenger Van 3-Door | 3.0L 2972CC 181Cu. In. V6 GAS SOHC Naturally Aspirated | |
| 1995 | Dodge | Caravan | Base Mini Passenger Van 3-Door | 3.3L 3301CC 201Cu. In. V6 GAS OHV Naturally Aspirated | |
| 1995 | Dodge | Caravan | LE Mini Passenger Van 3-Door | 3.0L 2972CC 181Cu. In. V6 GAS SOHC Naturally Aspirated | |
| 1995 | Dodge | Caravan | C/V Mini Cargo Van 3-Door | 3.0L 2972CC 181Cu. In. V6 GAS SOHC Naturally Aspirated | |
| 1995 | Dodge | Caravan | Base Mini Passenger Van 3-Door | ELECTRIC | |
| 1995 | Dodge | Caravan | Base Mini Passenger Van 3-Door | 3.3L 3301CC 201Cu. In. V6 CNG OHV Naturally Aspirated | |
| 1995 | Dodge | Caravan | C/V Mini Cargo Van 3-Door | 2.5L 2507CC 153Cu. In. l4 GAS SOHC Naturally Aspirated | |
| 1987 | Dodge | Grand Caravan | SE Mini Passenger Van 3-Door | 2.5L 2507CC 153Cu. In. l4 GAS SOHC Naturally Aspirated | |
| 1987 | Dodge | Grand Caravan | SE Mini Passenger Van 3-Door | 3.0L 2972CC 181Cu. In. V6 GAS SOHC Naturally Aspirated | |
| 1987 | Dodge | Grand Caravan | LE Mini Passenger Van 3-Door | 3.0L 2972CC 181Cu. In. V6 GAS SOHC Naturally Aspirated | |
| 1988 | Dodge | Grand Caravan | SE Mini Passenger Van 3-Door | 2.5L 2507CC 153Cu. In. l4 GAS SOHC Naturally Aspirated | |
| 1988 | Dodge | Grand Caravan | LE Mini Passenger Van 3-Door | 3.0L 2972CC 181Cu. In. V6 GAS SOHC Naturally Aspirated | |
| 1988 | Dodge | Grand Caravan | SE Mini Passenger Van 3-Door | 3.0L 2972CC 181Cu. In. V6 GAS SOHC Naturally Aspirated | |
| 1989 | Dodge | Grand Caravan | SE Mini Passenger Van 3-Door | 2.5L 2507CC 153Cu. In. l4 GAS SOHC Naturally Aspirated | |
| 1989 | Dodge | Grand Caravan | LE Mini Passenger Van 3-Door | 2.5L 2507CC 153Cu. In. l4 GAS SOHC Naturally Aspirated | |
| 1989 | Dodge | Grand Caravan | LE Mini Passenger Van 3-Door | 3.0L 2972CC 181Cu. In. V6 GAS SOHC Naturally Aspirated | |
| 1989 | Dodge | Grand Caravan | LE Mini Passenger Van 3-Door | 2.5L 2507CC 153Cu. In. l4 GAS SOHC Turbocharged | |
| 1989 | Dodge | Grand Caravan | SE Mini Passenger Van 3-Door | 2.5L 2507CC 153Cu. In. l4 GAS SOHC Turbocharged | |
| 1989 | Dodge | Grand Caravan | SE Mini Passenger Van 3-Door | 3.0L 2972CC 181Cu. In. V6 GAS SOHC Naturally Aspirated | |
| 1990 | Dodge | Grand Caravan | LE Mini Passenger Van 3-Door | 3.3L 3301CC 201Cu. In. V6 GAS OHV Naturally Aspirated | |
| 1990 | Dodge | Grand Caravan | SE Mini Passenger Van 3-Door | 3.3L 3301CC 201Cu. In. V6 GAS OHV Naturally Aspirated | |
| 1991 | Dodge | Grand Caravan | SE Mini Passenger Van 3-Door | 3.3L 3301CC 201Cu. In. V6 GAS OHV Naturally Aspirated | |
| 1991 | Dodge | Grand Caravan | LE Mini Passenger Van 3-Door | 3.3L 3301CC 201Cu. In. V6 GAS OHV Naturally Aspirated | |
| 1992 | Dodge | Grand Caravan | ES Mini Passenger Van 3-Door | 3.3L 3301CC 201Cu. In. V6 GAS OHV Naturally Aspirated | |
| 1992 | Dodge | Grand Caravan | Base Mini Passenger Van 3-Door | 3.3L 3301CC 201Cu. In. V6 GAS OHV Naturally Aspirated | |
| 1992 | Dodge | Grand Caravan | SE Mini Passenger Van 3-Door | 3.0L 2972CC 181Cu. In. V6 GAS SOHC Naturally Aspirated | |
| 1992 | Dodge | Grand Caravan | LE Mini Passenger Van 3-Door | 3.3L 3301CC 201Cu. In. V6 GAS OHV Naturally Aspirated | |
| 1992 | Dodge | Grand Caravan | SE Mini Passenger Van 3-Door | 3.3L 3301CC 201Cu. In. V6 GAS OHV Naturally Aspirated | |
| 1992 | Dodge | Grand Caravan | ES Mini Passenger Van 3-Door | 3.0L 2972CC 181Cu. In. V6 GAS SOHC Naturally Aspirated | |
| 1992 | Dodge | Grand Caravan | Base Mini Passenger Van 3-Door | 3.0L 2972CC 181Cu. In. V6 GAS SOHC Naturally Aspirated | |
| 1993 | Dodge | Grand Caravan | LE Mini Passenger Van 3-Door | 3.3L 3301CC 201Cu. In. V6 GAS OHV Naturally Aspirated | |
| 1993 | Dodge | Grand Caravan | ES Mini Passenger Van 3-Door | 3.3L 3301CC 201Cu. In. V6 GAS OHV Naturally Aspirated | |
| 1993 | Dodge | Grand Caravan | Base Mini Passenger Van 3-Door | 3.0L 2972CC 181Cu. In. V6 GAS SOHC Naturally Aspirated | |
| 1993 | Dodge | Grand Caravan | ES Mini Passenger Van 3-Door | 3.0L 2972CC 181Cu. In. V6 GAS SOHC Naturally Aspirated | |
| 1993 | Dodge | Grand Caravan | SE Mini Passenger Van 3-Door | 3.3L 3301CC 201Cu. In. V6 GAS OHV Naturally Aspirated | |
| 1994 | Dodge | Grand Caravan | SE Mini Passenger Van 3-Door | 3.0L 2972CC 181Cu. In. V6 GAS SOHC Naturally Aspirated | |
| 1994 | Dodge | Grand Caravan | ES Mini Passenger Van 3-Door | 3.8L 3778CC 231Cu. In. V6 GAS OHV Naturally Aspirated | |
| 1994 | Dodge | Grand Caravan | SE Mini Passenger Van 3-Door | 3.3L 3301CC 201Cu. In. V6 GAS OHV Naturally Aspirated | |
| 1994 | Dodge | Grand Caravan | LE Mini Passenger Van 3-Door | 3.3L 3301CC 201Cu. In. V6 GAS OHV Naturally Aspirated | |
| 1994 | Dodge | Grand Caravan | LE Mini Passenger Van 3-Door | 3.8L 3778CC 231Cu. In. V6 GAS OHV Naturally Aspirated | |
| 1994 | Dodge | Grand Caravan | Base Mini Passenger Van 3-Door | 3.0L 2972CC 181Cu. In. V6 GAS SOHC Naturally Aspirated | |
| 1994 | Dodge | Grand Caravan | ES Mini Passenger Van 3-Door | 3.3L 3301CC 201Cu. In. V6 GAS OHV Naturally Aspirated | |
| 1995 | Dodge | Grand Caravan | LE Mini Passenger Van 3-Door | 3.3L 3301CC 201Cu. In. V6 GAS OHV Naturally Aspirated | |
| 1995 | Dodge | Grand Caravan | SE Mini Passenger Van 3-Door | 3.0L 2972CC 181Cu. In. V6 GAS SOHC Naturally Aspirated | |
| 1995 | Dodge | Grand Caravan | ES Mini Passenger Van 3-Door | 3.8L 3778CC 231Cu. In. V6 GAS OHV Naturally Aspirated | |
| 1995 | Dodge | Grand Caravan | ES Mini Passenger Van 3-Door | 3.3L 3301CC 201Cu. In. V6 GAS OHV Naturally Aspirated | |
| 1995 | Dodge | Grand Caravan | LE Mini Passenger Van 3-Door | 3.8L 3778CC 231Cu. In. V6 GAS OHV Naturally Aspirated | |
| 1995 | Dodge | Grand Caravan | SE Mini Passenger Van 3-Door | 3.3L 3301CC 201Cu. In. V6 GAS OHV Naturally Aspirated | |
| 1995 | Dodge | Grand Caravan | Base Mini Passenger Van 3-Door | 3.0L 2972CC 181Cu. In. V6 GAS SOHC Naturally Aspirated | |
| 1987 | Plymouth | Voyager | SE Mini Passenger Van 3-Door | 3.0L 2972CC 181Cu. In. V6 GAS SOHC Naturally Aspirated | |
| 1987 | Plymouth | Voyager | LE Mini Passenger Van 3-Door | 3.0L 2972CC 181Cu. In. V6 GAS SOHC Naturally Aspirated | |
| 1987 | Plymouth | Voyager | Base Mini Passenger Van 3-Door | 2.6L 2555CC 156Cu. In. l4 GAS SOHC Naturally Aspirated | |
| 1987 | Plymouth | Voyager | SE Mini Passenger Van 3-Door | 2.6L 2555CC 156Cu. In. l4 GAS SOHC Naturally Aspirated | |
| 1987 | Plymouth | Voyager | LE Mini Passenger Van 3-Door | 2.6L 2555CC 156Cu. In. l4 GAS SOHC Naturally Aspirated | |
| 1987 | Plymouth | Voyager | SE Mini Passenger Van 3-Door | 2.5L 2507CC 153Cu. In. l4 GAS SOHC Naturally Aspirated | |
| 1987 | Plymouth | Voyager | Base Mini Passenger Van 3-Door | 2.2L 135Cu. In. l4 GAS SOHC Naturally Aspirated | |
| 1987 | Plymouth | Voyager | SE Mini Passenger Van 3-Door | 2.2L 135Cu. In. l4 GAS SOHC Naturally Aspirated | |
| 1987 | Plymouth | Voyager | LE Mini Passenger Van 3-Door | 2.2L 135Cu. In. l4 GAS SOHC Naturally Aspirated | |
| 1988 | Plymouth | Voyager | Base Mini Passenger Van 3-Door | 2.5L 2507CC 153Cu. In. l4 GAS SOHC Naturally Aspirated | |
| 1988 | Plymouth | Voyager | SE Mini Passenger Van 3-Door | 2.5L 2507CC 153Cu. In. l4 GAS SOHC Naturally Aspirated | |
| 1988 | Plymouth | Voyager | LE Mini Passenger Van 3-Door | 2.5L 2507CC 153Cu. In. l4 GAS SOHC Naturally Aspirated | |
| 1988 | Plymouth | Voyager | LE Mini Passenger Van 3-Door | 3.0L 2972CC 181Cu. In. V6 GAS SOHC Naturally Aspirated | |
| 1988 | Plymouth | Voyager | SE Mini Passenger Van 3-Door | 3.0L 2972CC 181Cu. In. V6 GAS SOHC Naturally Aspirated | |
| 1989 | Plymouth | Voyager | SE Mini Passenger Van 3-Door | 3.0L 2972CC 181Cu. In. V6 GAS SOHC Naturally Aspirated | |
| 1989 | Plymouth | Voyager | Base Mini Passenger Van 3-Door | 2.5L 2507CC 153Cu. In. l4 GAS SOHC Turbocharged | |
| 1989 | Plymouth | Voyager | SE Mini Passenger Van 3-Door | 2.5L 2507CC 153Cu. In. l4 GAS SOHC Naturally Aspirated | |
| 1989 | Plymouth | Voyager | LE Mini Passenger Van 3-Door | 2.5L 2507CC 153Cu. In. l4 GAS SOHC Naturally Aspirated | |
| 1989 | Plymouth | Voyager | LE Mini Passenger Van 3-Door | 3.0L 2972CC 181Cu. In. V6 GAS SOHC Naturally Aspirated | |
| 1989 | Plymouth | Voyager | SE Mini Passenger Van 3-Door | 2.5L 2507CC 153Cu. In. l4 GAS SOHC Turbocharged | |
| 1989 | Plymouth | Voyager | LE Mini Passenger Van 3-Door | 2.5L 2507CC 153Cu. In. l4 GAS SOHC Turbocharged | |
| 1989 | Plymouth | Voyager | Base Mini Passenger Van 3-Door | 2.5L 2507CC 153Cu. In. l4 GAS SOHC Naturally Aspirated | |
| 1990 | Plymouth | Voyager | LE Mini Passenger Van 3-Door | 2.5L 2507CC 153Cu. In. l4 GAS SOHC Naturally Aspirated | |
| 1990 | Plymouth | Voyager | Base Mini Passenger Van 3-Door | 2.5L 2507CC 153Cu. In. l4 GAS SOHC Turbocharged | |
| 1990 | Plymouth | Voyager | Base Mini Passenger Van 3-Door | 2.5L 2507CC 153Cu. In. l4 GAS SOHC Naturally Aspirated | |
| 1990 | Plymouth | Voyager | SE Mini Passenger Van 3-Door | 2.5L 2507CC 153Cu. In. l4 GAS SOHC Turbocharged | |
| 1990 | Plymouth | Voyager | LX Mini Passenger Van 3-Door | 2.5L 2507CC 153Cu. In. l4 GAS SOHC Naturally Aspirated | |
| 1990 | Plymouth | Voyager | LX Mini Passenger Van 3-Door | 3.0L 2972CC 181Cu. In. V6 GAS SOHC Naturally Aspirated | |
| 1990 | Plymouth | Voyager | SE Mini Passenger Van 3-Door | 3.0L 2972CC 181Cu. In. V6 GAS SOHC Naturally Aspirated | |
| 1990 | Plymouth | Voyager | SE Mini Passenger Van 3-Door | 2.5L 2507CC 153Cu. In. l4 GAS SOHC Naturally Aspirated | |
| 1990 | Plymouth | Voyager | LE Mini Passenger Van 3-Door | 3.0L 2972CC 181Cu. In. V6 GAS SOHC Naturally Aspirated | |
| 1990 | Plymouth | Voyager | LE Mini Passenger Van 3-Door | 2.5L 2507CC 153Cu. In. l4 GAS SOHC Turbocharged | |
| 1990 | Plymouth | Voyager | LX Mini Passenger Van 3-Door | 2.5L 2507CC 153Cu. In. l4 GAS SOHC Turbocharged | |
| 1991 | Plymouth | Voyager | LE Mini Passenger Van 3-Door | 3.0L 2972CC 181Cu. In. V6 GAS SOHC Naturally Aspirated | |
| 1991 | Plymouth | Voyager | LE Mini Passenger Van 3-Door | 2.5L 2507CC 153Cu. In. l4 GAS SOHC Naturally Aspirated | |
| 1991 | Plymouth | Voyager | SE Mini Passenger Van 3-Door | 3.3L 3301CC 201Cu. In. V6 GAS OHV Naturally Aspirated | |
| 1991 | Plymouth | Voyager | LX Mini Passenger Van 3-Door | 2.5L 2507CC 153Cu. In. l4 GAS SOHC Naturally Aspirated | |
| 1991 | Plymouth | Voyager | LX Mini Passenger Van 3-Door | 3.0L 2972CC 181Cu. In. V6 GAS SOHC Naturally Aspirated | |
| 1991 | Plymouth | Voyager | SE Mini Passenger Van 3-Door | 3.0L 2972CC 181Cu. In. V6 GAS SOHC Naturally Aspirated | |
| 1991 | Plymouth | Voyager | Base Mini Passenger Van 3-Door | 3.0L 2972CC 181Cu. In. V6 GAS SOHC Naturally Aspirated | |
| 1991 | Plymouth | Voyager | LE Mini Passenger Van 3-Door | 3.3L 3301CC 201Cu. In. V6 GAS OHV Naturally Aspirated | |
| 1991 | Plymouth | Voyager | SE Mini Passenger Van 3-Door | 2.5L 2507CC 153Cu. In. l4 GAS SOHC Naturally Aspirated | |
| 1991 | Plymouth | Voyager | Base Mini Passenger Van 3-Door | 2.5L 2507CC 153Cu. In. l4 GAS SOHC Naturally Aspirated | |
| 1992 | Plymouth | Voyager | LE Mini Passenger Van 3-Door | 3.0L 2972CC 181Cu. In. V6 GAS SOHC Naturally Aspirated | |
| 1992 | Plymouth | Voyager | SE Mini Passenger Van 3-Door | 3.3L 3301CC 201Cu. In. V6 GAS OHV Naturally Aspirated | |
| 1992 | Plymouth | Voyager | SE Mini Passenger Van 3-Door | 2.5L 2507CC 153Cu. In. l4 GAS SOHC Naturally Aspirated | |
| 1992 | Plymouth | Voyager | SE Mini Passenger Van 3-Door | 3.0L 2972CC 181Cu. In. V6 GAS SOHC Naturally Aspirated | |
| 1992 | Plymouth | Voyager | LX Mini Passenger Van 3-Door | 3.0L 2972CC 181Cu. In. V6 GAS SOHC Naturally Aspirated | |
| 1992 | Plymouth | Voyager | LE Mini Passenger Van 3-Door | 3.3L 3301CC 201Cu. In. V6 GAS OHV Naturally Aspirated | |
| 1992 | Plymouth | Voyager | Base Mini Passenger Van 3-Door | 3.0L 2972CC 181Cu. In. V6 GAS SOHC Naturally Aspirated | |
| 1992 | Plymouth | Voyager | Base Mini Passenger Van 3-Door | 2.5L 2507CC 153Cu. In. l4 GAS SOHC Naturally Aspirated | |
| 1993 | Plymouth | Voyager | SE Mini Passenger Van 3-Door | 3.0L 2972CC 181Cu. In. V6 GAS SOHC Naturally Aspirated | |
| 1993 | Plymouth | Voyager | LE Mini Passenger Van 3-Door | 3.3L 3301CC 201Cu. In. V6 GAS OHV Naturally Aspirated | |
| 1993 | Plymouth | Voyager | SE Mini Passenger Van 3-Door | 3.3L 3301CC 201Cu. In. V6 GAS OHV Naturally Aspirated | |
| 1993 | Plymouth | Voyager | LE Mini Passenger Van 3-Door | 3.0L 2972CC 181Cu. In. V6 GAS SOHC Naturally Aspirated | |
| 1993 | Plymouth | Voyager | Base Mini Passenger Van 3-Door | 3.0L 2972CC 181Cu. In. V6 GAS SOHC Naturally Aspirated | |
| 1993 | Plymouth | Voyager | SE Mini Passenger Van 3-Door | 2.5L 2507CC 153Cu. In. l4 GAS SOHC Naturally Aspirated | |
| 1993 | Plymouth | Voyager | Base Mini Passenger Van 3-Door | 2.5L 2507CC 153Cu. In. l4 GAS SOHC Naturally Aspirated | |
| 1993 | Plymouth | Voyager | LX Mini Passenger Van 3-Door | 3.0L 2972CC 181Cu. In. V6 GAS SOHC Naturally Aspirated | |
| 1994 | Plymouth | Voyager | Base Mini Passenger Van 3-Door | 3.0L 2972CC 181Cu. In. V6 GAS SOHC Naturally Aspirated | |
| 1994 | Plymouth | Voyager | SE Mini Passenger Van 3-Door | 3.0L 2972CC 181Cu. In. V6 GAS SOHC Naturally Aspirated | |
| 1994 | Plymouth | Voyager | LE Mini Passenger Van 3-Door | 3.0L 2972CC 181Cu. In. V6 GAS SOHC Naturally Aspirated | |
| 1994 | Plymouth | Voyager | SE Mini Passenger Van 3-Door | 3.3L 3301CC 201Cu. In. V6 CNG OHV Naturally Aspirated | |
| 1994 | Plymouth | Voyager | Base Mini Passenger Van 3-Door | 3.3L 3301CC 201Cu. In. V6 CNG OHV Naturally Aspirated | |
| 1994 | Plymouth | Voyager | LX Mini Passenger Van 3-Door | 3.0L 2972CC 181Cu. In. V6 GAS SOHC Naturally Aspirated | |
| 1994 | Plymouth | Voyager | SE Mini Passenger Van 3-Door | 3.3L 3301CC 201Cu. In. V6 GAS OHV Naturally Aspirated | |
| 1994 | Plymouth | Voyager | Base Mini Passenger Van 3-Door | ELECTRIC | |
| 1994 | Plymouth | Voyager | LX Mini Passenger Van 3-Door | 3.3L 3301CC 201Cu. In. V6 GAS OHV Naturally Aspirated | |
| 1994 | Plymouth | Voyager | LE Mini Passenger Van 3-Door | 3.3L 3301CC 201Cu. In. V6 GAS OHV Naturally Aspirated | |
| 1994 | Plymouth | Voyager | Base Mini Passenger Van 3-Door | 2.5L 2507CC 153Cu. In. l4 GAS SOHC Naturally Aspirated | |
| 1995 | Plymouth | Voyager | Base Mini Passenger Van 3-Door | 3.0L 2972CC 181Cu. In. V6 GAS SOHC Naturally Aspirated | |
| 1995 | Plymouth | Voyager | SE Mini Passenger Van 3-Door | 3.0L 2972CC 181Cu. In. V6 GAS SOHC Naturally Aspirated | |
| 1995 | Plymouth | Voyager | Base Mini Passenger Van 3-Door | 3.3L 3301CC 201Cu. In. V6 GAS OHV Naturally Aspirated | |
| 1995 | Plymouth | Voyager | SE Mini Passenger Van 3-Door | 3.3L 3301CC 201Cu. In. V6 GAS OHV Naturally Aspirated | |
| 1995 | Plymouth | Voyager | Base Mini Passenger Van 3-Door | 2.5L 2507CC 153Cu. In. l4 GAS SOHC Naturally Aspirated | |
| 1995 | Plymouth | Voyager | LE Mini Passenger Van 3-Door | 3.3L 3301CC 201Cu. In. V6 GAS OHV Naturally Aspirated | |
| 1995 | Plymouth | Voyager | Base Mini Passenger Van 3-Door | ELECTRIC | |
| 1995 | Plymouth | Voyager | LE Mini Passenger Van 3-Door | 3.0L 2972CC 181Cu. In. V6 GAS SOHC Naturally Aspirated | |
| 1995 | Plymouth | Voyager | Base Mini Passenger Van 3-Door | 3.3L 3301CC 201Cu. In. V6 CNG OHV Naturally Aspirated | |